Tao Land
From Tao Land

Tao Land is a minecraft forge mod, which provides a full dimension and various new features. Adventurers and adventuresses could use ancient eastern spell, technique, and skills to explore, create and fight in this completely different world. Now, click download and enjoy!
Recent Release
Latest release is TaoLandMod-0.3.3.2 for Forge-1.8-11.14.1.1334.
| Version | Download | Release Time | Change Log | Checksum |
| --- | --- | --- | --- | --- |
| TaoLandMod-0.3.3.2 | | 2015-09-04 | Change Log | SHA-1: 1ee69925ea9348270175a20bd10142a729b6eb70 |
Change Log
Installation
Tao land mod is a forge mod. Firstly, Minecraft Forge should be installed. Current tao land mod is for minecraft 1.8 and forge 11.14.1.1334. Now follow steps below to install forge:
Choose Minecraft-1.8, Forge-11.14.1.1334 and download the installer
Run installer and install client
Now that you have minecraft forge, you could install tao land mod by following steps:
Find your minecraft folder

Windows: C:\Users\<username>\AppData\Roaming\.minecraft
Linux: <homedir>/.minecraft
MacOS: <homedir>/Library/Application Support/minecraft

Put TaoLandMod-0.3.3.2.jar into minecraft/mods folder. If it doesn't exist, create it.
Start your minecraft, choose minecraft version "1.8-Forge11.14.1.1334". You would find tao land mod in mods list.
Getting Start
You could build a portal by following steps:
Craft an yinyang ball from 4 diamonds and 1 redstone dust.
Set on fire by means of flint and steel or a fire charge or something.
Toss the yinyang ball into fire.
Move away from the fire because there would be an explosion, after which a portal appears.
Tao Portal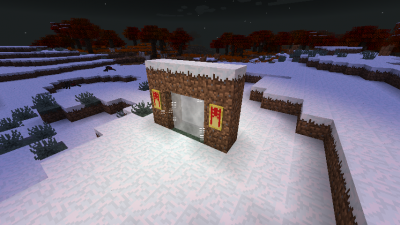 Walking into the portal and you will be teleported to tao land. Start your adventure and have fun!
Wiki
See Wiki
Contact & Bug Report
Author: Herbix
E-mail: herbix@163.com
Bug Report: http://bugreport.herbix.me/taoLand.php